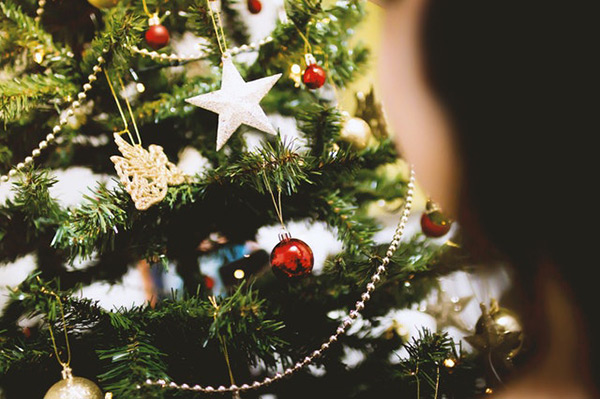 Few homes get decked out for the Christmas season quite like the White House, and few know more about it than Laura Dowling — who, from 2009 to 2015, served as the White House's chief floral designer. As the person in charge of all greenery for then–President Barack Obama and first lady Michelle Obama, Dowling decorated over 50 Christmas trees and created hundreds of seasonal arrangements during her time at 1600 Pennsylvania Ave.
Dowling has consolidated all that experience in her new book, "A White House Christmas," a holiday decor guide packed with photos and illustrations on how to re-create an executive mansion Christmas in your own home. Here are some of her top holiday decor tips and hacks in case you'd like to steal a few.
Pick a theme
"Start your holiday planning by choosing an overall theme," advises Dowling. "For example, a 'winter wonderland' theme is lovely with snow-flocked trees, glittering crystal branches, pine cone boughs, and ice blue and silver ribbons, while a nostalgic 'vintage' theme comes to life with bottle brush trees, large colored lights and a 1950s color palette, accented with kitschy vintage ornaments and other retro details."
Focus on key areas
Maximize your holiday budget by picking a few key focal points, rather than strewing decorations all over your house. For example, Dowling usually concentrates on the Christmas tree, a front door wreath, the fireplace mantel (if there is one), window decorations, an entryway arrangement, and dining table décor. But if that sounds overwhelming, Dowling says, "a single large-scale design creates more impact than several smaller pieces."
Use free (or inexpensive) decorations
"Use simple elements from nature, like leaves, pine cones, branches, and berries to add festive, seasonal décor," advises Dowling. One of the great things about that is when the holidays are over, you don't have to worry about storing those decorations—you can just throw them on the compost pile.
Dowling also suggests raiding the recycle bin for newspapers, cans, and containers that can be fashioned into a wide range of holiday décor (like trees, wreaths, garlands, and flower vessels).
"Many of my favorite White House projects involved using recycled and inexpensive materials like newspaper, fallen leaves, pipe cleaners, and ribbon that were readily available and accessible to all."
For example, she once decorated the White House Green Room with a Christmas tree made out of stacked soda cans—and another one made of shredded newspaper! She has also decorated the East Colonnade archway with pipe cleaners, proving that gorgeous decorations don't have to break the bank.
Make old decorations new again
Give old ornaments and decorations a new lease on life by adding gold paint, glitter, sequins, and the like. Mixing precious items like special glass ornaments with less expensive crafts like tissue paper roses creates drama and interest.
Make clever and inexpensive wreaths
"Wreaths crafted from colorful fruits and vegetables create maximum impact at a reasonable price," says Dowling. "Check out the grocery aisle and farmers market for endless inspiration."
How to light a Christmas tree right
The secret to producing a beautiful, professional-looking tree is in the lighting, says Dowling. "To calculate the correct number of lights, figure you need 100 to 200 for every vertical foot—and more if you like a dense, bright look. An effective technique is to add the strings in vertical sections (not horizontal sections, as most people do), working from bottom to top and back down again, all the way around the tree, weaving and wrapping the strands all the way into the interior branches and back out to the tips."
White House Christmas tree decorating tips
Dowling says there are four steps to hanging ornaments and garlands once the lights are on:
Hang the largest ornaments first, balancing them at different levels around the tree. Place some of the large ornaments in deep to create a sense of depth.
Next, add the widest garlands and ribbons to create line and movement in the overall design, and to create a vertical or horizontal pattern.
Fill in the tree with colorful ornaments, also paying attention to texture and varied finishes (e.g., natural, glass, fiber, metallic, etc.).
Finish the tree with special items (e.g., children's crafts, special cards, antique ornaments, etc.) placed in prominent positions for a personal touch.
"Even if you don't have access to 100 enthusiastic holiday decorating volunteers to help with stringing lights, unpacking boxes, and trimming trees like I had at the White House, you can make holiday decorating a fun and festive affair with friends and family," says Dowling.
She says it will go a lot smoother if you "make individual decorating assignments, and always keep a supply of snacks and refreshments on hand." And of course, playing some festive holiday tunes seems par for the course.
And once it's done, you should toast your tree and all who helped make it happen.
"One of my favorite holiday memories at the White House was the time of year toward the end of the holiday season when I could invite my volunteers and contractors to join me at a party that celebrated their accomplishments," she says. "There, sitting in front of the roaring fire in the Red Room with a festive drink in hand, we could revel in the beauty of the White House at Christmas time."
Article originally appeared on Realtor.com