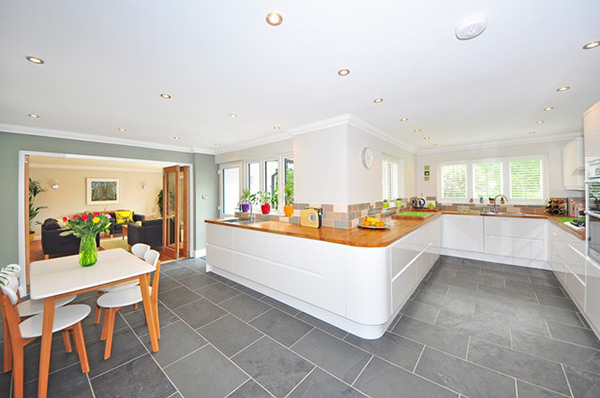 Flooring is one of the most important design decisions you can make.
There's no getting around it: Picking flooring for your Yardley home is a big decision. Between the cost of the materials, the time spent on installation and a continued need for maintenance, it's easy to see why many homeowners are desperate to be certain they're making the right choice before taking the plunge.
If you've found yourself in a similar conundrum, you're in the right place. Below is our guide on how to pick the right flooring for any room in your home. Read over your options carefully and use our tips to find the perfect fit.
Consider the function of the room first to determine the best flooring.
Think about function
How, and where, the flooring will be used needs to be your first point of consideration. For example, some materials may be well-suited for high-trafficked areas while others would not be able to stand up to the same level of wear and tear. On the other hand, some are optimal for providing comfort while others may seem lacking in comparison.
Below is an overview of optimal uses for the most common flooring types:
Vinyl: Made of synthetic polymers and added pigmentation for color, vinyl is easy to clean and highly water-resistant. It's a natural pick for utilitarian spaces such as kitchens, laundry rooms and mud rooms.
Tile: Since tile is made from ceramic or porcelain, it is also very water resistant and easy to clean. It's typically considered a step up from vinyl aesthetically and is used in spaces such as kitchens and bathrooms that need to stand up to frequent cleanings. Tile is now available in a variety of faux-finishes — like wood and stone — which only serves to further its popularity.
Engineered or composite wood: This processed version of wood flooring is made by compressing several layers of plywood and putting a thin layer of hardwood over top. It can be installed over any type of subfloor and is a good fit in any room that is free of moisture.
Hardwood: The gold standard of flooring, hardwood is extremely durable and can be sanded and refinished many times. It also is a natural fit in just about any moisture-free area.
Carpet: Commonly made from polyester, nylon or polypropylene, carpet's fibers make it a natural choice where comfort is key. It's best used in bedrooms and living areas.
Be honest with yourself about your willingness and ability to perform maintenance.
Keep maintenance in mind
Since most rooms in your home could be served equally well by more than one flooring material, you should also consider how much maintenance you're willing to perform. Be honest with yourself. Over time, proper maintenance is what ensures you get the most out of your investment.
Consider the following as you make your decision:
Vinyl: Surface dirt and spills clean easily with vinyl. All you need is a broom, mop and mildly soapy water. However, vinyl is difficult to repair when damaged, so do your best to keep it safe from dents, chips and abrasive chemicals.
Tile: Tile itself is easy to clean with some soapy water, but grout is another story. Grout can easily attract dirt, stains and even mold. You should be prepared to replace it every 5-10 years, depending on the quality of upkeep.
Engineered or composite wood: Typically, all you need to do to care for an engineered wood is sweep away debris and clean the surface with a damp mop. That said, since this wood bows easily, you need to clean up spills as soon as possible and avoid damaging it with sharp objects such as high heels or cleats.
Hardwood: Since hardwood floor is fairly durable, it can stand up to a decent amount of wear and tear. Regular broom cleanings and the occasional mopping is most of what's needed. Once you start to notice scratches and the corners begin to lose some of their shine, consider buffing the floors to restore their luster.
Carpet: Carpet fibers stain easily, so spills should be cleaned up immediately with a cleaner that's approved by the manufacturer. Other than that, regular vacuuming should also become part of your cleaning schedule.
Obviously, budget should factor into your decision.
Remember your budget
As always, you need to take into account the cost of your flooring material. Pick one that fits comfortably within your budget. While every product is different, here are some typical price ranges (via homewyse):
Vinyl: Vinyl flooring is your most affordable option. It usually ranges from $2-$4 per square foot and can be bought in large sheets. It also can be installed over any type of subfloor, which reduces installation cost.
Tile: Tile designs are more expensive. They can range from $12-$19 per square foot, depending on the material and design used. Additionally, unless you're truly handy, it's best to let a professional handle the installation, which means you need to add in labor costs.
Engineered or composite wood: A more affordable alternative to hardwood, engineered options tend to range from $7-$11 per square foot. Installation of these products tends to be fairly simple, so it's up to you if you want to bring in the pros.
Hardwood: Real hardwood is more costly and the price varies greatly based on the type and specific grain of wood. On average, be prepared to pay between $10-$15 per square foot, plus the cost of installation.
Carpet: At $4-$6 per square foot, carpet is a fairly affordable option, despite usually requiring professional installation.
Use our tips to pick the flooring that's right for you.
Picking flooring for your Yardley home can be stressful. For starters, it's a big investment and, in a perfect world, you'd like to be able to ensure it stays looking nice for the considerable future. However, if you choose wrong, it will likely end up being a costly mistake. For an easier decision-making process, use the tips in this post for picking flooring for every room in your home.
The post Picking Flooring for Your Home: Make the Right Choice Every Time with our Step-by-Step Guide appeared first on Freshome.com.