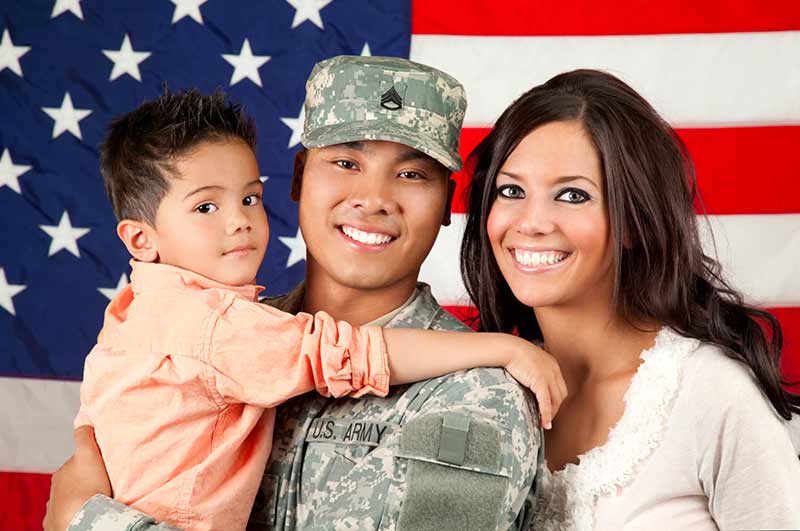 When it comes to purchasing a home in Yardley, discovering the perfect house is only winning one part of the battle. The other part is finding out a way to pay for that house. But If you are a veteran or current soldier, you have a mortgage loan option which is not available for other Americans. This loan option is known as VA loans.
The VA loan is being supported by VA to help American veterans, active soldiers and widowed military spouses to buy their own home. VA loan is an attractive option as it is quite easy to get its qualification plus it does not require any down or advance payments.
Let's discuss what VA mortgage loan is, how VA loan works, should u buy a house in Yardley with a VA loan and is VA loan the best loan option for you?
What is a VA loan?
VA loans were announced in 1944 under GI legislation bill, but the popularity of this loan option has increased in recent years. Around 8% of home purchasing was done through VA loans during the first half of 2018.
There are currently two nonconventional or government supported loan options available in market and VA loan is one of these option. VA loans are issued by private lenders, such as banks and mortgage companies like any other nonconventional loan. The difference is that VA loans are guaranteed by the VA. In other words, VA agrees to cover the part of a loan if VA borrower become defaulter and unable to pay the debt or if there is a risk of foreclosure (losing your house due to inability to repay the debt)
Since VA guarantees the repayment of loan, banks assume less risk as compare to conventional loan. This makes getting approved for a VA loans relatively easy. In 2017, VA guaranteed over 740,000 mortgage loans and broke all the previous year's records.
Here are some of the key features and unique advantages of VA loans:
You don't have to pay any down payment to buy a house in Yardley. VA loans are one of the very few loan options available today which require zero percent down payment. Over 80 percent of these loans are provided without prepayment.
VA loan has no limit on the amount of loan a borrower can get, but there is a perimeter to the amount of responsibility VA takes. Maximum guarantee that VA took in 2018 was 25% (113,275 USD) of the total loan amount. This equates to a maximum loan of $453,100. Beyond that limit VA does not provide any guarantee. Looks dangerous? Perhaps it is!
A borrower doesn't have to pay PMI or Private Mortgage Insurance. Since VA loans are guaranteed by the government, a borrower doesn't need to pay for any private mortgage insurance.
VA loans don't have any minimum credit score requirement. But still most lenders are still looking for a borrower with credit score of 620 or above.
VA loans can only be utilized for either acquiring or building your primary home or to refinance your existing loan. So you should not even try to buy any investment property or secondary residence with VA home purchasing loan.
VA loans only covered specific types of homes. Empty land, plot or other co-ops cannot be purchased through VA loan. Approval of other property types is dependent upon the approval of the lender.
VA offers support to borrowers who are facing the threat of foreclosure. Borrowers who are facing in payment of their VA mortgage loan can get help from VA technicians who can negotiate with the lenders on behalf of the borrower.
There is not any prepayment fine on VA loans. This means that you cannot be penalized if you pay your loan before time.
Who is eligible for a VA loan?
To receive this loan, Veterans and soldiers must meet certain VA service requirements. In principle, if you fall into one of the following three categories, you can get VA mortgage loan:
You are an active or honorably discharged veteran at 90 consecutive days' service during the war or 181 active service days during peacetime.
You have served in the National Guard or Reserve for more than six years.
You are the spouse of one of the service member who died while performing service duty.
After completing the application process, you will need a Certificate of Eligibility (COE) to prove the mortgage lender that you are eligible for a VA loan. You can apply for COE through the VA website, through email or through your lender.
You do not need to be the first time home purchaser to get a VA loan. While you pay each time, you can reuse them again.
Even if you filed for bankruptcy or rejected foreclosure, you may qualify for a VA loan one or two years later.
What are the disadvantages of VA loans?
Sounds good But if you go deeper, you will have serious problems with this type of loan.
First, zero pay is not very profitable. This is a dangerous trap. In this scenario, a simple change in the real estate market could lead to the fact that you have to pay more than the market value of the house. In other words, if you need to rush to sell a house, you must have to stay at home until the market recovers otherwise an economic loss will occur.
In the case of VA loans, it is necessary to pay funding fee in the range of 1.25% to 3.3% of the loan amount. For a loan of $ 300,000, these charges range from $ 3,750 to $ 9,900. The payment is usually included in the loan. Therefore, it increases your monthly payment and increase the interest payable during the term of the loan. You can also consider the beginning fees of the lender.
While the interest rate on 30-year VA loans is generally lower than the 30-year conventional loan with fixed interest rate, none of these loans is a good option. Both are much more expensive than the 15-year VA loan. Typically, you get a low-interest on the 15-year conventional loan rather than the interest rate on the VA 15-year loan.
Is it worth a VA loan?
Suppose you take VA 15-year mortgage of $200,000 with an interest rate of 4.625% without any down payment. Let's say that your financing cost is $ 4,300 and is included in the loan. The monthly payment is $ 1,576 (basic + interest) then the total interest paid during the loan period is $ 79,374.
Taking into account the principal amount of the loan, funding fee and interest expenses, the total cost of the VA loan is $ 283,674.
But what happens if you decide to save 20% on this house and decide to choose 15 year conventional mortgage with the fixed interest rate? First, it has a maximum interest rate of 4.125% and will not have a Private Mortgage Insurance. The monthly payment is $ 1174, saving hundreds of dollars each month.
However, by looking at the interest paid during the entire loan period, you can verify the savings. For a 15-year fixed-rate loan, your interest is $ 54,839, approximately $ 25,000 less than the VA loan.
When all has been said, the total cost of a 15-year fixed loan, including the first installment, is $ 254,839. In other words, instead of VA loan if you get a conventional loan with a fixed interest rate for 15-year, you have saved an additional $28,835 over the life of your loan. I think you can imagine a wonderful way to use that money.
If you have been denied a home loan or have any questions about real estate or mortgage please contact the author, Matt Herbolich, MBA, JD, LLM by phone or text at 786.390.9499 or by email at mherbolich@usa-mortgage.com. Mr Herbolich works when you work, so feel free to contact him any time.