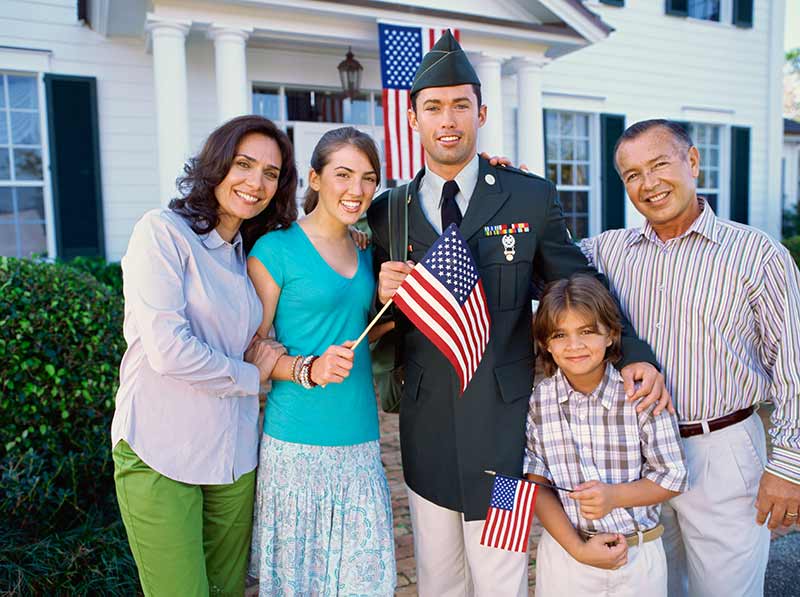 VA loan offers a chance for eligible veteran borrowers in Yardley to get into home by paying an affordable price. It is a great loan option which is specifically designed for Veterans and other military personnel or surviving spouse. VA loan does not require any down payment or Private mortgage insurance (PMI), instead of mortgage insurance it only requires a one-time funding fee.
VA also has some special loan guidelines and loan programs for the veterans who faced some sort of disability in the line of their duty.
Before we go in further details, lets discuss some basic queries often asked by veterans.
Do Veterans in Yardley have to pay closing costs?
Every mortgage comes up with the closing cost which has to be paid by the borrower. VA loans also have closing costs like any other loan type, but the good news is that VA seller concession policy enables the seller to pay for a big amount of these closing costs far more than any other type of loan.
There is no limit on the amount for anyone to opt to contribute to the following things:
Origination fees
Discount points – these are points you can earn by prepaying some of your interest before the agreed time and this can help you to lower the interest rate.
Other fees – includes things like pay for credit reports, appraisals and property surveys.
The seller can pay only 4% of the purchase price or assessment, whichever is less. This applies to the escrow items (prepaid property tax and insurance of homeowner), as well as the funding fee of VA.
However, funding fee maybe avoided in some cases.
With sellers concession fee, additionally, there is an option of choosing lender credits for some or all of the closing costs. If you choose this then these things will add into the balance of the loan and paid over the loan term.
Exemptions from Funding fee?
If you have a disability related to the service or you are a surviving spouse of someone who lost his/her life in service-related action or from some disability which happened during service, you can get your funding fee waived off.
If you are presently receiving disability benefits and still haven't closed your VA loan yet, the funding fee will be canceled and you will not have to pay it anymore. (This applies regardless of your level of disability.)
If you close the loan in Yardley before receiving the benefits, the loan fees may be refunded if you were in the middle of the process of applying for disability benefits at the time of purchase or refinancing. For example, if a home buyer who buys a house for the first time has acquired a home with a VA loan for $ 200,000 and qualifies for disability benefits, the funding fee of 2.15% will be waived, thereby saving the amount of 4300 dollars. Once disability benefits are approved, a written request must be made to the VA Regional Loan Center to begin repayment of the funding fee. If you financed the funding fee, the amount of the payment will be deducted from the amount originally due, and if you pay in cash, the VA will issue you a check.
It is important to know that if you currently do not receive disability benefits, you must have at least pending VA disability benefits application before the loan expires. If the date of your disability application is after closing date of VA loan then you may not be able to attain this offer and receive a refund.
VA grants for a Disabled Veteran:
Although a disabled veteran can buy a house in Yardley with a free VA loan, if the house also requires access changes, a Specially Adapted Housing (SAH) grant and a Special Housing Adaptation (SHA) grant are available. To qualify for these special grants, you must have a 100% disability  (service related) index set by VA.
SAH helps Veterans with one of the following options:
Build a house with special places for people with special needs (special disability related changes).
Transformation and adaptation of existing house to relevant housing needs of the disable person.
Apply the grant to the mortgage balance of a home already purchased without a VA grant.
SHA helps eligible veterans with one of the following options:
Adaptation to an existing home already belongs to the veteran.
Adaption to the house that the veteran wants to buy.
Help a veteran to buy a house that has already been adapted.
It is important to note that for the grant the maximum amount of the SAH for the 2010 fiscal year is US $ 81,080. For SHA, the approval threshold is $ 18,216. In addition, Veterans disability benefits must be approved before applying for housing grants.
Veterans eligible to participate in one of these programs may also be eligible for Temporary Resident Adaption (TRA) grant. In this way, you can receive funds to temporarily modify the residence of the family member in which you are living in. The maximum allowable loan amount for a SAH eligible veteran is $ 35,593. If you are eligible for SHA, the limit for the TRA 2018 grant is $ 6,355.
Even if you are not eligible for any of these special programs, contact your VA office and your local Department of Health and Human Services department nearest you. There may be other sources of funding, as well as veteran related, which allow you to achieve goals related to housing or something that has made life more complicated due to the fact of service related disability.
There are tax credits and Exemption for the homeowner
If you used a VA loan to purchase a new home in Yardley, you are entitled to some very useful tax breaks and exemptions that may be useful. Tax exemptions for people with disabilities can help reduce the amount of tax paid by a disabled veteran per year. The amount varies depending on the State you are living in. Therefore, it is important to personally check the benefits in your State at your VA office or website. For example, some states offer 100% tax exemption to all veterans, while others limit 100% disabled veterans.
With a VA loan you can also qualify for a mortgage credit certificate (MCC). The MCC is issued at the state level, so you can claim a tax deduction on a portion of the mortgage interest paid for each tax year. The loan amount is set at the state level, but this is definitely an advantage that should be taken.
Disability payments can help you get a VA loan.
If you are currently receiving VA disability benefits, this can be considered income, which will help you fulfill income requirements for VA loans. To qualify for a VA loan, income must meet three criteria: it must be stable, reliable, and likely to continue. The most important factor when using a disability pension for a VA loan is the likelihood that your payments will continue.
If you have been denied a home loan or have any questions about real estate or mortgage please contact the author, Matt Herbolich, MBA, JD, LLM by phone or text at 786.390.9499 or by email at mherbolich@usa-mortgage.com. Mr Herbolich works when you work, so feel free to contact him any time.