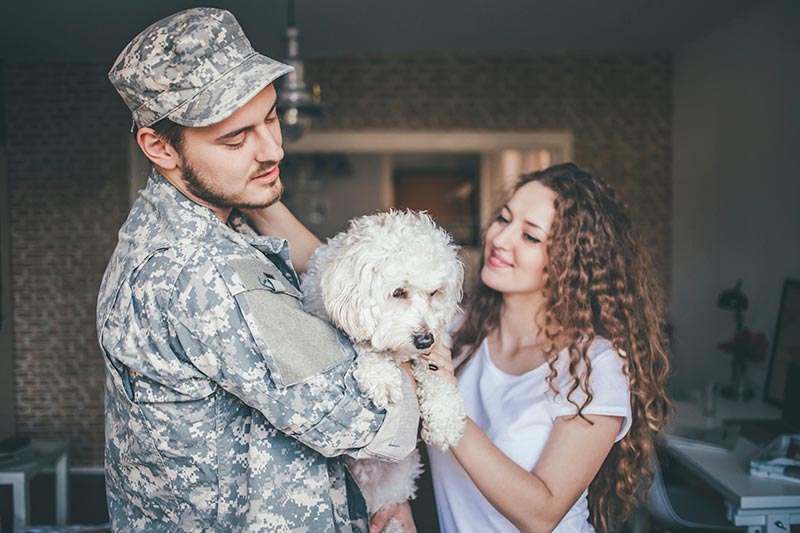 VA loans are designed with the help of United States Department of Veteran affairs to help veterans, active duty military workers, and other groups to get their own home at reasonable prices. The advantages of the VA loan include:
No need for any down payment, makes the VA loan a real opportunity not to spend money on down payments.
No need for any mortgage insurance plus generally low closing costs, which saves your money in advance.
Greater flexibility in terms of history of credit and income as compare to other loans, allowing eligible borrowers to obtain a loan
VA loan is superior than FHA and conventional loans?
The biggest advantage of VA mortgage program is that it is backed by Department of VA and its primary purpose is to support Veterans and other military workers to get into their own home at very cheap rates. VA loan is characterized by a combination of low interest rates, preferential benefits and additional benefits. Although there is a "right loan program" for almost every person in United States.
The VA loan does not require advance payment, does not require mortgage insurance and offers flexible rating recommendations, among many other benefits.
Here is a summary of the top 10 VA mortgage benefits.
1. VA loan requires no Down payment:
For many other mortgage programs, a borrower must have to pay at least a small down payment to purchase a home. But, VA mortgage loan is an exceptional case, you can finance your home purchasing up to 100% with the help of VA loans instead of paying 5 to 20% down payment to purchase your own home. So with no down payment requirement, a VA mortgage loan is a real opportunity for a Veteran or military personnel to get into a home.
2. VA loans require no mortgage loan insurance:
On conventional loans or FHA loans, if you pay less than 20% down payment on your mortgage loan then most lenders ask for PMI (Private Mortgage Insurance). The requirement of PMI is to protect the lender in case a borrower fails to repay the loan. Since as I mentioned earlier Yardley VA mortgage loans are backed by VA itself so it does not require any Private Mortgage Insurance or PMI. This is another advantage of VA loans and makes VA loans more affordable for the borrower.
3. VA loans are backed by Government itself:
VA loans are backed by the Government itself and guarantees the lenders the if borrower fails to repay the loan then government will repay the portion of loan. This encourages the lenders to provide more favorable terms to the borrowers and make the VA loans unique and affordable for the borrowers.
4. You can Shop around and compare the prices of VA and other loans:
You can shop around and compare the prices of VA loans with other types of loans. The U.S government only provide guarantee for VA loan but it does not fund or grant VA loans. Department of Veteran Affairs also do not set the loan requirements, mortgage rates or the amount of loan. Instead, this all depends upon the lenders (private lenders, Banks, or other saving and credit Institutions) who are providing VA loans. This factor enables you to shop around, visit different lenders or mortgage institutions and then choose the best package that fits your budget.
5. No prepayment penalty on VA loans:
There is no early-exit fee or pre-payment penalty in case of VA loan. This means that you will not restrict by VA loan from selling your home before the completion of given time frame so if you no longer want to own your house you can sell it any time without the fear of being penalized.
In addition, there is no restriction on refinancing your VA loan. You can refinance your current Yardley VA loan against another loan from the VA through a refinancing loan for an interest rate reduction program (IRRRL) or anytime move on to a non-VA loan.
6. VA loans come in different varieties:
The VA loan in Yardley can be used to buy a house, a condo, a new house, an industrial house, a duplex or any other type of property. It can have a fixed rate or an adjustable rate. It can also be used to repair or improve your home or improve the energy efficiency of your home or refinance an existing mortgage. Your options The VA approved lender can help you make a decision.
7. Qualification procedure for VA loan is quite easy:
VA loans requirements and guidelines are quite flexible as compare to other loan types. Though like all other types of loans it also requires decent credit history and credit score, specific documentation and enough income to make your monthly payments but still its requirements are quite relaxing then others. This is due to the VA guarantee which makes it quite easier for a borrower to qualify and get VA loans.
8. Closing cost of the loan V.A. Lesser than other loan types
The tax law limits closing fees that lenders may charge to VA loan applicants. This is another way for a VA loan to become more affordable than other types of loan. Funds saved in furniture, transportation, home improvements or anything else can be used.
9. VA offers flexibility in funding rates.
VA loans in Yardley require a "Finance Committee", an initial commission based on the amount of your loan, the type of eligible services, the amount of the payment and other factors. However, the financial charges must not be paid in cash. VA allows you to finance it through a loan, so you do not have to pay when you close.
Not all VA borrowers will pay for it. VA funding rates are generally exempt for veteran veterans eligible for VA disability benefits and for unmarried spouses of veterans who die while on duty or as a result of a service-related disability.
10. Available VA Loans
Most VA loans in Yardley are "available", which means that you can transfer a VA loan to a potential buyer, if that person is also eligible for a VA. The available loans can be very helpful when selling a home, especially when interest rates are high on mortgages. If your mortgage is low today and market rates rise in the future, the default loan features will be more useful.
If you have been denied a home loan or have any questions about real estate or mortgage please contact the author, Matt Herbolich, MBA, JD, LLM by phone or text at 786.390.9499 or by email at mherbolich@usa-mortgage.com. Mr Herbolich works when you work, so feel free to contact him any time.