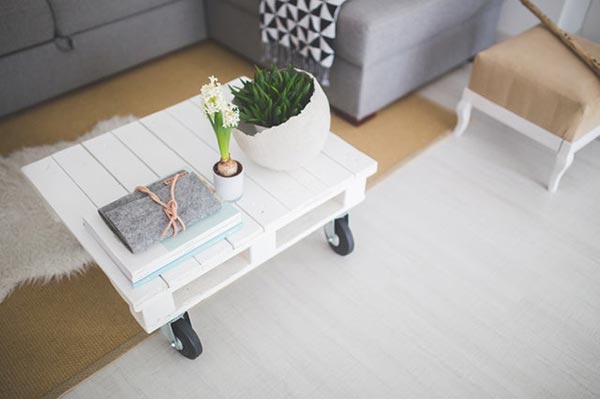 No home is perfect, no matter how big or new it is. You may find issues with the layout, or storage or lighting. It can be a bigger challenge when you rent, since you usually can't do much about the space you're living in. But luckily, many home decorating problems have easy fixes you can tackle in just a few hours or a weekend.
Here are five of the most common home decorating problems and how you can easily fix them.
1. My space feels small and cramped
If you feel like one of your biggest decorating problems is a small, cramped space, you can do a few things to improve it. Here's a three-step action plan:
Start by decluttering the area. Too many items, pictures and even furniture pieces make a room feel smaller. Clean out what's unnecessary and donate, throw out or store it in a box or bin somewhere out of sight. Keep bookshelves and surfaces clutter-free and use only essential furniture pieces in the room.
Paint the walls. Freshen up the room by painting your space in a lighter, fresh color. This shouldn't be too hard and will brighten the room.
Add large mirrors. Mirrors reflect light and expand a space by creating the illusion that there's more. You can buy a large, full length mirror and lean it against a wall. Or add a wall mirror or square mirror tiles over a table or behind your sofa. Choose where to place the mirror strategically by choosing to reflect light or a nice view in the mirror.
2. My living room needs an update but I don't have the budget for an overhaul
You don't have to spend a ton to update your living room. The furniture is usually the most expensive part of the room. Finding ways to freshen up the furniture should save you from having to replace it all. Here are some ideas to solve home decorating problems on a budget in your living room:
Add tailored slipcovers to your sofas if they're looking old and tired.
Invest in a new coffee table or paint your existing one.
Pick a bold color to accent your existing space and add a combo of one or two throw pillows, a vase, new curtains and an inexpensive area rug in that color.
3. My spare bedroom is full of junk and I have guests coming to stay!
We've all been there. It's time to do a little weekend organization. Don't sweat making the guest room perfect. As long as it's clean, relatively clutter-free and features a nicely dressed bed and one nightstand, most guests will be happy. And anyway, you don't want them to stay forever, right? Here are the steps:
Declutter the room first to decide what stays and what goes.
Get rid of all furniture except for a bed and nightstand and any other essential furniture pieces.
Add bookcases or shelves if you have lots of smaller items you need to put back in the room.
Add storage bins under the bed.
Use behind-the-door organizers for shoes, supplies and other items.
Maximize the closet space by adding bins, caddies and extra shelves to store clothes and larger items.
Add (or clean up) a desk area if you keep work-related items in the guest room.
Make the bed with a nice bedding set to look inviting and presentable.
4. My walls are boring and I don't know what to do
Boring white rental walls are not fun. What can you do to dress them up and breathe life into them? Add pattern and color in a big way. Here are some ideas:
Hang large and unframed canvas artwork (since it's very lightweight) with removable wall hooks.
Wallpaper one single focal wall using removable wallpaper that's easy to peel off.
Paint one focal wall in a wild, bold color.
Create a gallery wall or collage of objects or pictures.
Add a floating shelf display for your favorite objects.
5. I hate my carpet or floors, but it's a rental
If you can't stand your floors, then cover them up. There's nothing wrong with adding a large, beautiful area rug over your existing carpet.
There are also carpet tiles by Flor that are not permanent. You can create a configuration of your choice that you stick together with its heavy duty "dots." And when it's time to move, peel off the dots and box up the carpet tiles for your new home, or recycle them.
Article orignally appeared on freshome.com